ARTEMIA CYSTS (Brine Shrimp)
GREAT SALT LAKE ARTEMIA CYSTS
The popular Great Salt Lake Artemia cysts (brine shrimp) are available in all grades. These GSL cysts are over-wintered, washed, dried, and tested under strict guidelines before categorizing into the different hatch rate categories. Average nauplii size at hatching is 440 microns.
Guaranteed Analysis: Protein - 60%, Fat - 24%, Ash - 4.4%, Moisture - 8.5%
| | |
| --- | --- |
| GSL Hatch Rate | Nauplii per gram |
| 90% | 250,000 |
| 85% | 240,000 |
| 80% | 230,000 |
| 70% | 210,000 |
| 65% | 190,000 |
| 60% | 170,000 |
Storage and Packaging: Artemia GSL cysts (brine shrimp) is packed in either 425g or 454g vacuum sealed cans, 12-cans per case. Also available in vacuum sealed 7.5kg pails. Artemia cysts (brine shrimp) are stored in bulk, airtight drums under cold storage conditions (4 degrees C). Allotments and orders are tested for quality before packaging. Our Artemia cysts (brine shrimp) are certified virus free by the University of Arizona Aquaculture Pathology Laboratory. Our quality control standards insure that the products are guaranteed fresh and meet our hatching percentage specifications.
SAN FRANCISCO ORIGIN (SFO) ARTEMIA CYSTS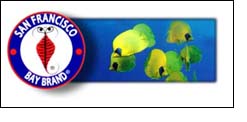 Known for their high lipid levels or HUFA's, these cysts are 100% Artemia franciscana harvested from the San Francisco Bay salt ponds. The processing technology, using fluidized-bed dryers, results in a shell-free product with excellent separation. Hatch rate and nauplii counts are based upon 350,000 cysts per gram.
Guaranteed Analysis: The average naupliar length is approximately 425 microns. Guaranteed Analysis: Protein — 60%, Fat — 24%, Ash — 4.4%, Moisture — 8.5%
| | |
| --- | --- |
| SFO Hatch Rate | Nauplii per gram |
| 80% | 280,000 |
Storage and Packaging: The SFO Artemia cysts are stored in bulk, airtight drums under cold storage conditions (4 degrees C). Allotments and orders are tested for quality control before packaging in 425 gram vacuum-packed, vapor-barrier foil bags. Each case contains 12 bags.
DECAPSULATED ARTEMIA CYSTS (SHELL FREE)
Decapsulated Artemia cysts are made from GSL cysts that have not broken diapause and will never hatch. The decapsulation procedure consists of chemically removing or oxidizing the outer chorion with a hypochloride solution. All that remains following decapsulation is the bright orange embryo surrounded by a thin hatching membrane. The decapsulated cysts are neutralized and are completely digestible buy the fish or shrimp larvae.
Feed the decapsulated Artemia cysts directly to the larviculture tanks. Do not incubate as with hatching cysts as these cysts will not hatch. As a feed source, decapsulated cysts have a higher energy and nutritional value than live Artemia nauplii as zero energy is consumed in the hatching process and lipids, amino acids, and enzymes are left intact.
Storage and Packaging: Processing of the decapsulated Artemia cysts requires dehydrated down to a moisture level of 8%. Decapsulated Artemia cysts are packed in either 500g cans or pouches. Also available in 10kg pails. Minimum one-year storage life.
EMBRYON

EMBRYON was developed to replace the need for decapsulation of Artemia GSL cysts. Standard techniques of decapsulating consisting of hypochloride is very time consuming and costly. Plus the concerns regarding inconsistent results as these methods are many times dependant on the skill level of the operator. EMBYRON is a ready to hatch Artemia solution/alternative.
EMBRYON has shown great success in fish and shrimp breeding hatcheries worldwide. As with the traditional decapsulating procedures, there are a few techniques (which may require some experimentation) in properly separating the non-hatched embryos from the free swimming nauplii. However, when used in shrimp applications, there is no need for separation of the non-hatched EMBRYON cysts as the PL's will feed on both the free swimming nauplii and the decapsulated embryo's.
To: Incubation

- Density 12 kg EMBRYON/M3
- Salinity 25-35 ppt
- Temperature 28-30 degrees C
- Light 2000 Lux
- Aeration strong (open end)
- Oxygen 4-6 ppm
- pH 7.5-8.5 (buffer with 0.5-1.0kg bicarbonate/M3)


T24-30: Harvest with INVE Concentrator Rinser

- feed immediately to larvae, or transfer nauplii to enrichment tank for enrichment with Selco® products.
Under ideal decapsulating conditions, 1.5kg of EMBRYON will yield the equivalent amount of nauplii to a 425g can of Artemia GSL 85% cysts. EMBRYON does have a tendency to hatch somewhat more slowly compared to the traditional methods utilizing Artemia cysts. Thus, it is important to hatch the cysts at 30 degree Centigrade for 24-hours. In fact, testing has shown an additional 5% (average) yield of free swimming nauplii when EMBRYON is hatched up to 30-hours.
EMBRYON is in a liquid solution and product will settle near the bottom of the container. It is important to stir the product prior to use unless the entire 4kg container is used.
Composition:
| | |
| --- | --- |
| Dry Matter | >50% |
| Crude Protein (after hydrolysis) | >15% |
| Crude Lipids | < 5% |
| Crude Ash | >15% |
Storage and Packaging: EMBRYON is available in 4kg containers. Product should be stored in a temperature range of 4-8 degrees Celsius. Shelf life for unopened product (stored properly) is twelve months. However, it is suggested to use product as soon as possible. Once opened, continue to store as indicated and use within a one month time period. Not for human consumption.
For more information about our products and services please fill out our online inquiry form or e-mail us at sales@artemia-international.com