SHRIMP MATURATION FEEDS
FROZEN BLOODWORMS FROM HOLLAND
Marine Bloodworms are the most essential component of the maturation diet for all Penaeid shrimp broodstock. These marine bloodworms (Nireis virens) are cultured in bio-secure, land-based ponds along the European coast of the North Sea. The cold-water temperatures and marine algae diet produces a bloodworm that is very high in essential fatty acids (HUFA's), necessary for sustained reproduction of shrimp broodstock.
Feed 8-10% wet body weight of total broodstock population per day
Certified free of all shrimp pathogens (TSV, WSSV, YHV)
High biomass content – 3 grams per worm, 850 g. per kilo weight after thawing
Protein, 60%; Fat, 14%; Ash, 15%, Cholesterol, 1.2%
Flash frozen in one kilo flatpacks
Fifteen one kilo flatpacks to a case
ARTEMIA BIOMASS (FROZEN)
United States origin. Harvested from salt ponds near San Francisco, California
Bio-enriched with a high quality fish oil emulsion
Blast frozen to preserve nutritional quality
Fed to post-larvae stages PL3 and higher
Certified disease free of all commercial shrimp viruses

Packaging: Packaged in two pound "flat packs", 24-packs (48-pounds net weight) per case. Insulated containers are an additional cost as required shipping via airfreight.
The deficiency of the essential HUFA's (highly unsaturated fatty acids) in the diet is primarily linked to its destruction during the heat pressing of flake and pelleted feeds. However, the innovative technique of bio-enrichment using "live" Artemia as a delivery system for essential nutrients, is now routinely practiced in commercial aquaculture facilities worldwide.
Our frozen Enriched Artemia Biomass is harvested from pristine waters near San Francisco in northern California. To ensure this product is "biosecure", disease free certification and other testing for all Class 1 shrimp pathogens and viruses (WSSV, YVH, TSV, NHP & IHHNV) are performed on a continues basis.
NATUROSE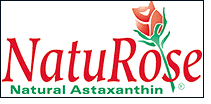 NatuRose(tm) is a natural source of astaxanthin, derived from a unique strain of the microalgae Haematococcus pluvialis. The majority of the NatuRose carotenoid fraction is astaxanthin, with about 15% of the remaining fraction consisting of canthaxanthin, lutein and beta-carotene. This highly concentrated form of natural astaxanthin has been carefully formulated into a fine, free flowing dark red powder and is an essential nutritional requirement for shrimp maturation and larviculture.
For more information about our products and services please fill out our online inquiry form or e-mail us at sales@artemia-international.com
BREED-S and BREED-S CONCENTRATE
BREED-S and BREED-S CONCENTRATE is amaturation diet for domesticated and wild shrimp broodstock.
Highly attractive and water stable
Compliments and can substitute up to 60% of the fresh food diets
Includes all known nutrients necessary for broodstock maturation
Pellet softener (BREED-S) added to improve palatability and ingestion
Storage and Packaging: BREED-S and BREED-S CONCENTRATE are available in 10-kg pails. Store in a dry cool environment. Once opened, use product within one month and keep refrigerated. Not for human consumption.
For more information about our products and services please fill out our online inquiry form or e-mail us at sales@artemia-international.com
OTHER MATURATION FEEDS
Frozen Bloodworms
Origin Maine, USA
Species Glycera de Branchiata
Packaging 40-pound insulated cases
Documents all original health and origin certificates available
Pricing CALL

Frozen Calamari Squid
Origin Monterey, California USA
Species Loligo Opalascens
Packaging 60-pound cases / (12) 5-pound packs
Documents all original health and origin certificates available
Pricing CALL